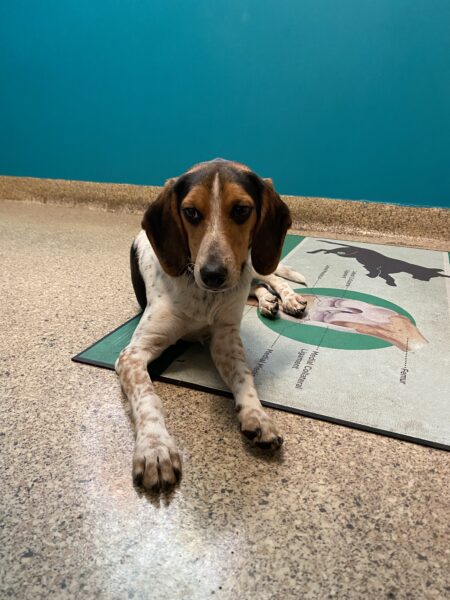 Breed: Beagle mix
Sex: Male, neutered
Estimated Birthdate: 12/18/2020
Size: 23 pounds but not quite full grown. We feel he will be small to medium
Good With Kids: Unknown but we feel he will be ok
Good With Cats: Unknown but probably not
Good With Other Dogs: Yes! He loves his canine friends
Housetrained: In progress
Crate Trained: Yes
Recommended Environment: Calvin will go willingly into his crate but isn't always quiet when he is in there. He would be better in a house than an apartment. Calvin would do best with a canine companion; he loves playing with his buddy. He is a Beagle and loves to follow his nose. A fenced in yard would be ideal but isn't required. Several walks throughout the day are a must! Whoever is walking him should be prepared for plenty of sniff stops. He is an active and intelligent dog and will require mental stimulation and physical exercise.
Additional Information: Calvin is a sweet dog and very snuggly. He is fairly calm. He is not quite as energetic as his sister Audrey but loves playing with her. He loves meeting new people and dogs. He is learning some of his commands but needs more time to master them. He also needs to work on his leash manners. Consistency and positive reinforcement will aid in his training.
*In the Canine Inmate Program*