HELPFUL RESOURCES
Petfinder.com
Petfinder.com has a lot of great information about adopting a new pet! Their site has everything from checklists of things to consider about before you bring your new pet home to annual care cost lists. Petfinder also has a lot of articles about what to think about after adoption, once your new pet is home with you.
Rescue Dogs 101's 3-3-3 Rule of Adoption
Check out Rescue Dog 101's 3 Days, 3 Weeks, 3 Month Rule of Adopting a Rescue Dog. Visit their website for more information on adopting and living with your new rescue pet!
(Feel free to save this image so you can view it in a larger size!)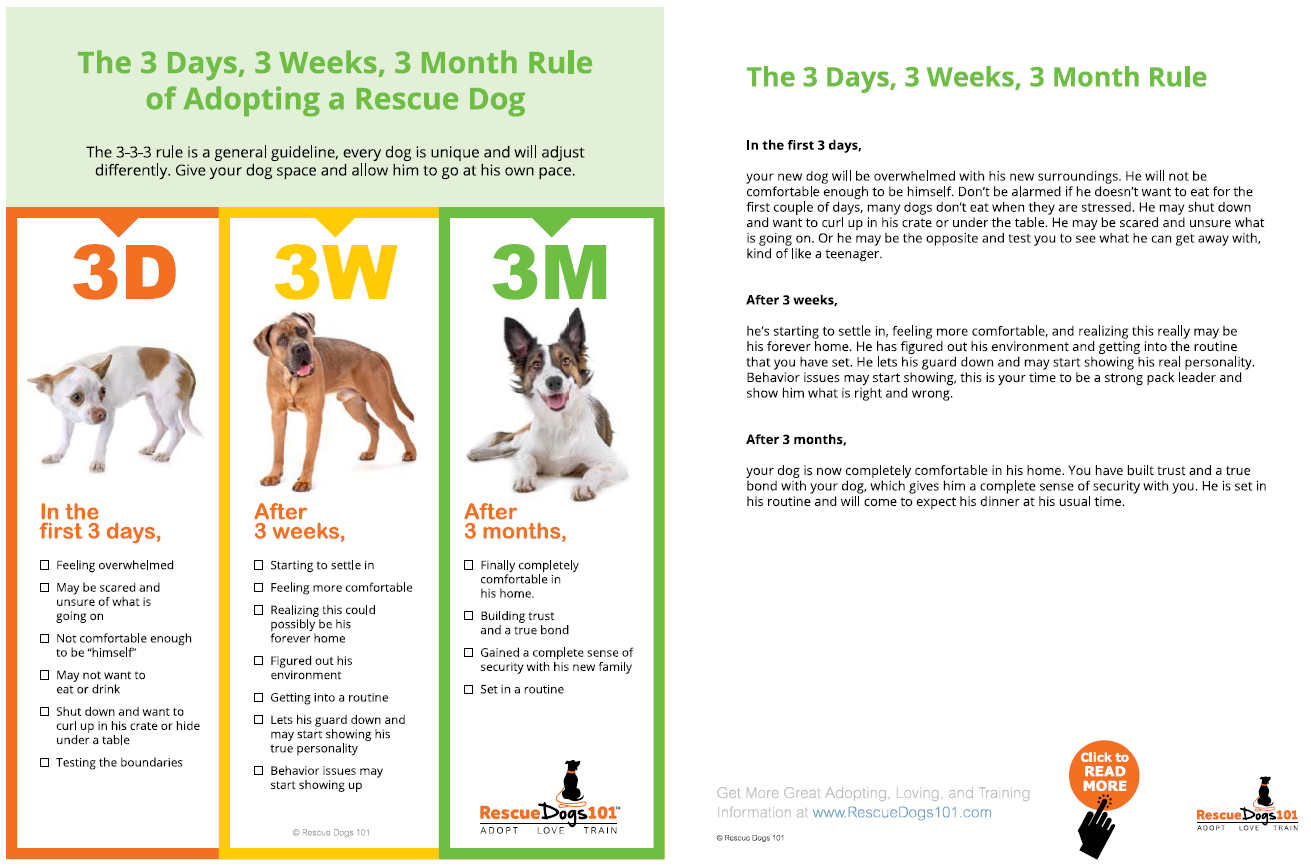 Rescue S.M.A.R.T.
Ann King, CPDT and owner of CompliantK9, offers insight and advice specifically geared towards rehabilitating rescue dogs. She offers free links, articles and training videos. This is a comprehensive site that addresses some of the specific and unique situations that can be associated with bringing a new rescued pet home.  You can view the "Five Steps to Success with Your Adopted Dog" document here.
Columbus Dog Connection
For Columbus-area residents, Columbus Dog Connection offers information on many local pet-related resources and services!  You can visit their website to find out information about emergency vet services and where the closest veterinary ER services are to you.
With so many homeless animals already wandering the streets without homes to go to, we cannot stress enough the importance of spaying or neutering your pet.  Columbus Dog Connection also provides information about free or low-cost spay/neuter and vaccination services in town.  They also provide information about pediatric spays and neuters.
Pet FBI
The Pet FBI web site is an information center for missing or found cats, dogs and other pets in Ohio. Visitors can post or search lost and found pet reports and obtain advice and contact information for Ohio animal shelters, humane societies and Ohio rescue groups.
TRAINING RESOURCES
Positively – Victoria Stilwell
This is the official website of English dog trainer, author and television host Victoria Stillwell (Animal Planet's "It's Me or the Dog"). Victoria uses only positive reinforcement training and touches on hundreds of dog related topics. Her site offers free videos, downloadable training help, and easy to understand approaches to a multitude of behavioral concerns. We incorporate many of her techniques in our Canine-Inmate Program and believe in her respectful and rewarding techniques.
OTHER RESOURCES
There are a number of other great resources out there for pet owners and animal lovers!  A few of these are listed below:
OTHER INFORMATION

Tips for Finding a Lost Pet

Start looking right away – don't wait for your pet to come home on its own.
Notify neighbors, your mail carrier, area businesses, area vets, and your local police and/or Animal Control Agency.
Post signs in LARGE PRINT so they can easily be read from a passing car. Include a recent picture if you can.
Visit your local shelter right away. In Franklin County, it is the shelter at 4340 Tamarack Boulevard, Columbus, OH 43229 . You cannot make phone inquiries, you must go there in person. Check back every day. If your pet did not have tags, they are only required to hold the animal for three (3) days.
Post a flier in the Pet Food section of your local grocery, pet supply or convenience store. If someone found your pet, they will need to buy pet food.
Contact Mary Jane Stockdale – Lost and Found Pet referral at 614.471.7397.
Watch bulletin boards in your area for any postings of a FOUND cat or dog.
Place a lost animal ad in your local newspaper(s).
If you live near another county, check that county's shelter as well. In Franklin County, also check the Capital Area Humane Society.
Post the animal on Pet FBI or call 614.675.1305.