Lola
Adoption Pending
Medium
Mix
Spayed/Neutered
Up-to-date with routine shots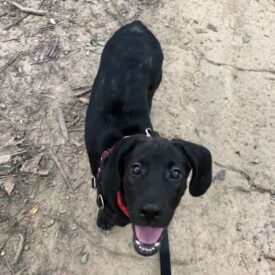 Lola is a 3 month old Lab mix, who is currently about 20 lbs. Lola LOVES to snuggle and give kisses. She likes making new friends and she is so friendly with everyone. Lola hops up the stairs with both front paws at a time and will follow you everywhere around your house. She just wants to be loved! Lola loves her daily walks, but she also loves to sleep – just like a typical puppy. Chewing on her toys or a rawhide is her favorite thing to do. She also likes to go in the car because it means she is going somewhere new! She is still working on her leash etiquette, as she is still a puppy and needs to learn her manners.
Lola is a little timid, and sometimes she is easily frightened by a loud noise or large vehicles. She is getting better every day, but she needs to continue to be exposed to new people, new animals and new experiences. She is fearful of some large dogs initially, but warms up quickly. She has not been exposed to cats. Like any pup, she should be exposed to any new fur-siblings before adoption.
Lola stays in her crate when her foster mom is not home and when sleeping at night. She normally needs a treat as incentive to go into her crate, but quiets down and is getting used to it. Lola is also working on her house-training, but she is still a puppy! She has come a long way in a short time with her foster mom. She has fallen into her routine quickly, and rarely has accidents anymore.
Lola is a typical wiggly, loving puppy. Puppies are a lot of work, and like all puppies, she still needs training and socializing. Lola learns quickly, so she will be a great pup after some training and socializing. She is definitely a couch potato and usually calm, but can be full of energy after a nap. Lola is such a happy, snuggly, playful, and loving dog – she will be great with any family that is the same.
Breed: Lab Mix
Sex: female
Estimated Birth Date: June 2020
Size: currently ~20 pounds
Good with kids: yes
Good with cats: unknown
Good with dogs: timid with larger dogs
House trained: in progress
Crate trained: in progress
Lola has been adopted!
Categories
Applications
Adoptable Pets!
Fundraisers & Events