"Phoenix" is a term now used to describe a person or thing that has become renewed after great suffering. We thought this would be a fitting name for this husky mix, since it is apparent by his scars that he has suffered in his past. Can you help him?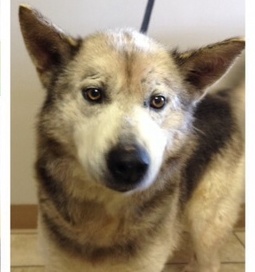 Phoenix isn't fancy. He's not a designer breed, he's not a roly poly puppy, he's not a looker. He is, however, gentle, affectionate, and patient. He's been waiting his whole life for someone to think he's amazing. From the embedded collar wound, the scars on his face, and the wounds on his legs, he has known great neglect. He won't chew your stuff, he won't pee everywhere, and he's not a barker. He just wants to "be." He's about 5 yrs old, 61 lbs, and as we've discovered, has occasional seizures. Because he needs medicine, he can no longer stay in our prison program. Phoenix needs a family, desperately.
Can you give him a place to lay his head, be the person who finally thinks he's amazing? Because he is.
Because of Phoenix's medical needs we're requesting donations to help offset the cost. If you are able to donate please go to our donation page and use the method that's easiest for you.
If you donate through PayPal, please use the Donor Name and Address field to let us know that are donating in Phoenix's name as well as provide us with your name and address. Thanks so much for helping!
– ADOPT Pet Rescue, Inc.